It's our "Life Camera Action" weekend in
New Mexic
o and we are talking Business Business Business. However, when it comes to Film... Business definitely equals pleasure. For the past two years I have been blessed with the opportunity to work on Season 1 and 2 of the Starz Network Television Series
"CRASH"
. For those of you that don't know, "CRASH" is the show based off of the Academy Award Winning Film,
Crash
2004
.
As mentioned above, New Mexico is known as the "Land of Enchantment," so for our Photo Shoot weekend I, of course, had to show Mr. Ezekiel what we are all about. New Mexico has a very large growing Film Industry, and we were able to meet with Mr.
Bob Baxter
, one of the Casting Directors for Crash Season II, who gave us an inside look at the LionsGate Studio (sound stage).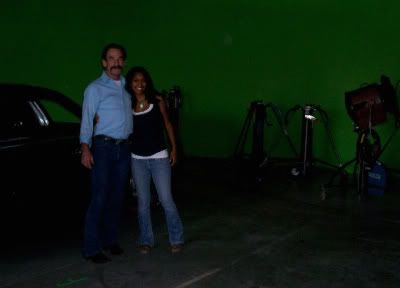 During our visit, we were fortunate to converse with, one of my favorite Producers in the industry, Mr.
Lester Berman
, Producer of CRASH Series, who gave us very good words of advice and encouragement in our Film pursuits. "The HARD part about being a director is showing up"