Based off the book, "Push" by Sapphire, "Precious" is about a coming of age young African-American girl who is significantly over weight, pregnant by her father for the second time, and abused by her mother on a day-to-day basis. Claireece Precious Jones, played by Gabourey 'Gabby' Sidibe, must fight to receive better education and escape the iron fist of her mother's tyranny while struggling to gain custody of her children.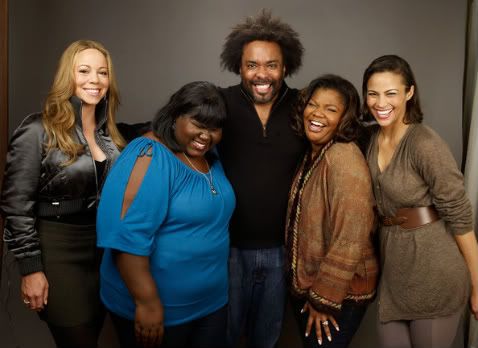 (January 16, 2009 - Photo by Getty Images/Getty Images North America)
(From Left to Right: Mariah Carey, Gabourey 'Gabby' Sidibe, Lee Daniels, Mo'Nique, and Paula Patton.)
Director, Lee Daniels (Monster's Ball, Shadowboxer), is a genius at his prime. He created a fine portrat of the gritty life of a disfunctional relationship of a mother and daughter. Many scenes was shot with handheld cameras to provoke horrific moments and edited with time lapse transitions to emphasizes the importance of what Precious is going through in key moments. I seriously believe that Daniels will get great regards in Hollywood for his remarkable vision of the movie. We can expect to see his next film being sold out as much as "Precious" was during this opening weekend.
The acting is one hundred and ten percent flawless. Mo'Nique have set far beyond the standard for any actor or actress to play the villain. She have frighten the audience with her portrayal of Mary, Precious' mother, and her belligerent ignorance. Sidibe (Precious) have done an enchanting job to make the literary figure come to life with graceful and elaborate acting. She has now become one of the central figures in our movie going hearts, beckoning the universe for us to see another performance of her once again in the future. Paula Patton, Robin Thicke's wife who plays Precious' alternative school teacher, loves to uplift the audience as a kind hearted, tough educator who teaches Precious how to "Push" her limits when life doesn't go the way she wants it to. Mariah Carey is also in the movie as a social worker who helps Precious with her difficult life. It is refreshing to see the wonderful superstar in this movie for her acting is rewarding to watch as well.
Only opened in 18 theaters across the country (New York, Atlanta, Los Angles, and Chicago) in highly African-American populated neigborhoods, it is very important to see this film. This movie is real! It deals with the nature, the depression, the hurt, the shame of domestic violence and the affects of it to a child. It also evokes and clarifies how important education is, no matter how horrible one's life is. I also give high regards to Sapphire for writing the wonderful book, "Push", and encourage anyone to read it.
To some, "Precious" could be just another feel good movie, but to most of us, real movie buffs, it is a work of a masterpiece by Lee Daniels that should be treated as the Mona Lisa by Leonardo Da Vinci.
Please take two minutes of your time to watch the trailer of the next academy award-winning film.